When:
Back to Calendar August 18, 2018 @ 1:00 pm - 5:00 pm
Where:
TBD

✔ Add to Calendar Add to Google Calendar
Making It Real: Speaking, Reading, and Grammar for Authentic Communication
Date: Saturday, August 18, 2018
Time: 1:00 p.m. – 5:00 p.m.
Venue: TBD
Clock Hours: Free 4 clock hours sponsored by WAFLT
Presenter: Bridget Yaden, Ph.D.
Bridget Yaden, Ph.D., is Professor of Hispanic Studies and Director of the Language Resource Center at Pacific Lutheran University (PLU) in Tacoma, Washington.  She holds a PhD and MA in Romance Linguistics (UW) and a BA in Spanish (WWU). She began her involvement in language centers during her graduate studies at the University of Washington (1995-1996, Language Learning Center) and has continued this work at PLU since 1996.  Her research interests include online language programs, bilingual education, and world language teacher preparation.  She has served on many professional boards, including ACTFL, NWALL, AATSP Juan de Fuca Chapter, WAFLT, and PNCFL.
Sponsor: Washington Association for Language Teaching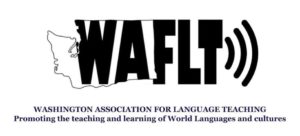 Please mark your calendar for this great workshop. More details will be updated soon.