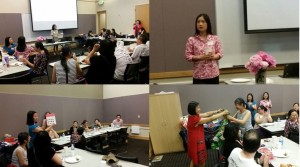 On Saturday June 4th 2016 CLTA-WA held its annual general meeting at the Kirkland library. Approximately 30 members enjoyed a half day full of stories, prizes, ideas and laughter.
The AGM started off by a light lunch. CLTA-WA 2015-2016 President, Cheyenne Matthewson, then made an opening presentation and shared the highlights of the past year. After a 5 minute slide show the members were enlightened to a welcome presentation by Xiaofeng Foster, 2016-2017 president. She also proudly announced CLTA-WA's new Executive and Board members. After a fun raffle section, five CLTA-WA teachers shared great teaching ideas/resource.
It takes countless time and effort to put something like this together so it is important to recognize and thank the board and out advisors. Special thanks to Chunman Gissing and Tracy Ge for donating awesome raffle prizes. As well thanks for the presence of our members today.
Finally CLTA-WA is looking forward to holding the Summer Workshop in August and seeing you there! Keep your eyes open for details in the upcoming months!