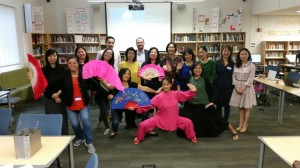 2017 CLTA-WA's Annual General Meeting (AGM) ​was held on Saturday, June 3, 2017, at the University Prep (8000 25th Ave NE, Seattle, WA 98115). This was an opportunity to say farewell to the outgoing CLTA-WA Board, get to know the new board members and learn about our plans for the new year, reflect and share ideas for the future of CLTA-WA, and network with other members.
We watched the slideshow — 2016-2017 review and appreciated the 16-17 board. New president gave remark & introduction of 17-18 board. Following that, we had a general members ice breaker and general members reflection & ideas for CLTA-WA. Three members shared teaching strategies and we had a cultural mini-workshops (Martial Art, Fan Dance, Who is the Undercover)
Please see below for members' sharing.
Hong Jiang Quick Overview of the IB Program
Jeremy Smith CLTA – AGM 2016-17 Differentiation
Dongmei Wang Elementary